Photo Albums from Sambodh Centres in Bangalore

::: New Rains have made SCLV greener, with more herbs, birds, and the cherry plant coming up happily ... From SCLV on 31 July 2016 ::: The previous day it had rained heavily, and hence it was a lovely day with the play of light, shade and moisture in the air. We planted a few saplings today - 5 Badami Mango saplings, 2 Big size Lemon saplings, 1 Pomegranate sapling, and 1 hybrid Jamun sapling - From the visit to Sambodh Centre for Living Values on 17 July 2016 ::: Another day at SCLV Bangalore after the rains... ::: Annual Sambodh Scholarships for Underprivileged students - 2013
These beautiful boys and girls with bright minds, of the Amruta Nagar Govt upper primary school (near Hebbal, Bangalore) are the hopes and motivation for their underprivileged parents ... Sambodh Foundation Bangalore awarded the annual scholarships to the selected bright kids on 15 August 2013 when our nation celebrated its 66th independence day.

The play of color, smell, and joys from Sambodh Centre for Living Values. Colage of pictures taken from SCLV yesterday - 21 August 2016.
SCHV gave scholarships to bright students of the School who will now have a new hope in life forward - 2012.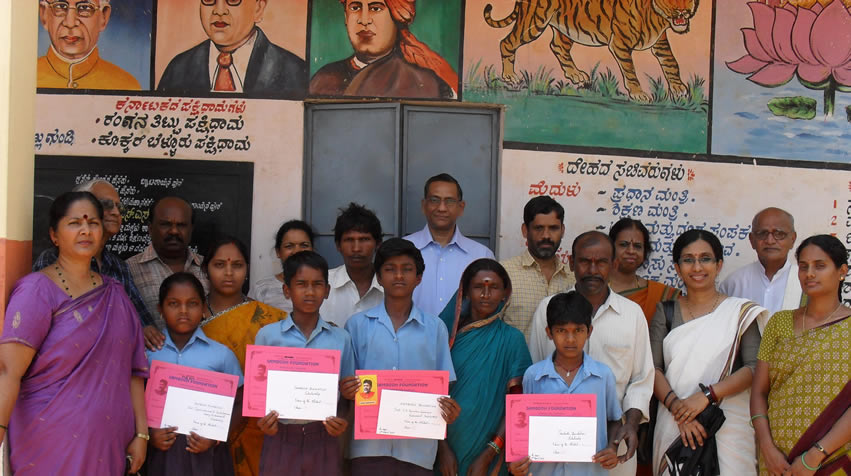 About Sambodh Centres in Bangalore

Sambodh Centres in Bangalore are dedicated to organise social and spiritual programs guided by the vision and teachings of Swami Bodhananda, with focus on charity work, rural uplift, ecological and spiritual values, and organic living. Read more