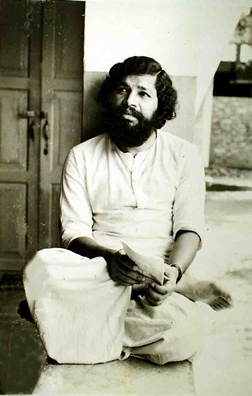 Swami Bodhananda was born in a quiet village called Mattatur, 36 miles north east of Kalady (in Kerala) the birth place of Adi Sankaracharya. From early childhood He showed great interest in reading and discussing issues pertaining to His country, culture, and geopolitics. He spent long hours of time either in solitude or dialoguing with his friends, teachers, and wandering monks. The young mind was disinterested in the ordinary, and sought to find the Light that was beckoning Him. He walked. He meditated. He kept silent. He read.

Everyday the young boy walked 10 miles to the school eager for the classes and to devour books in the public library.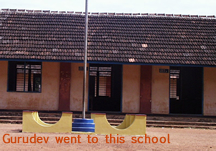 By the age of 14 He finished reading Nehru's Glimpses of World History, complete works of Swami Vivekananda, and Mahatma Gandhi, and by 17 he finished Marx's Das Capital, Adam Smith's The Wealth of Nations, Herbert Marcuse's One-dimensional man, Regis Debre's Revolution in Revolution, and Albert Camu's The Rebel. The brilliant student,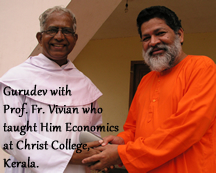 graduated with government scholarship from Christ college, (Irinjalakuda) Kerala, and subsequently chose economics and political science for post graduation.
Gurudev spent several years in the Himalayas in silence watching the embodiment of ultimate truth - the snow clad mountains, and in meditation absorbed in the non-dual basis of existence - Brahman. His enlightenment is marked by compassion, love, and a crystal clear vision that illumines even the darkest corners of human mind.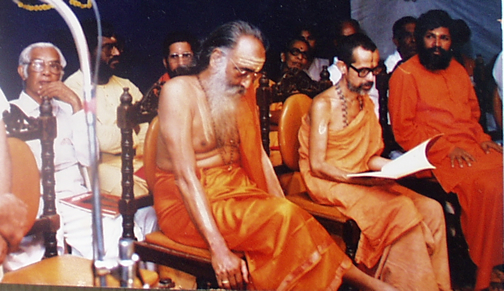 From 1987 to 1990 Swami Bodhananda was the Mukhyacharya at the Sandeepany Sadanalaya in Kasargode (north Kerala) and taught a complete course of Vedanta for the first batch of Brahmacharis. The Sadhanalaya was inaugurated in September 1987. The Brahmachari Training Course replete with a syllabus to master the mind as well as scriptures was taught by Swami Bodhananda and completed in a period of two and half years.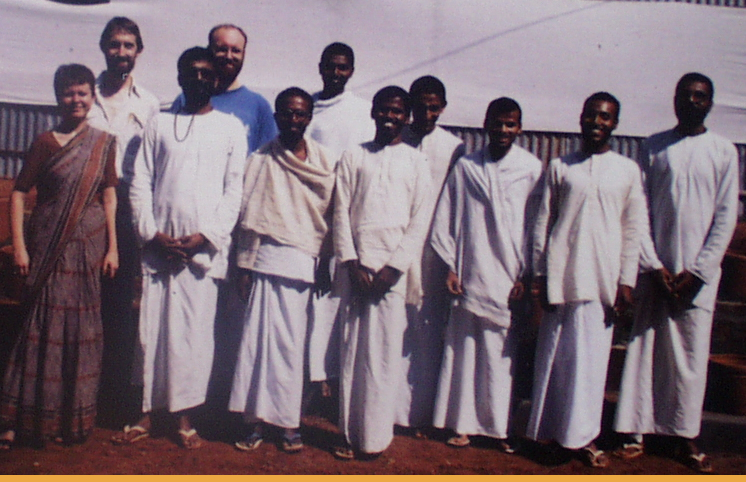 Many of the Brahmacharis Gurudv taught then are today well-known sanyasins, and among them is the most prominent spiritual leader of Kerala, Swami Adhyatmananda, who currently heads the Sambodh Kerala.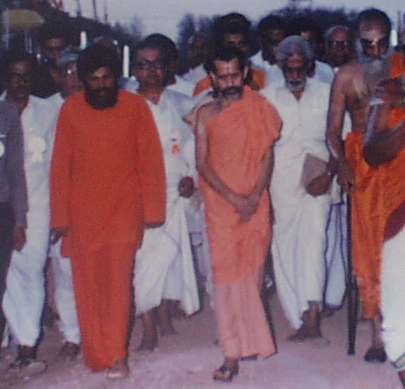 Swami Bodhananda is a Teacher of keen observation, sharp analytical thinking, subtle perception, and an integral vision, all marked by unconditional compassion for anyone and everyone who comes to Him. His analysis of any issue, whether it is of geopolitical importance, or philosophical abstraction, or psychological complexity, always brings with it nuanced clarity coupled with connected and unified presentation. Hence, anyone who meets Him finds the issue of discussion retold in an exhaustive, lucid, and connected manner. And in that retelling, one finds an enlightening and accomodative reponse to their question and challenge.

Gurudev believes in the fundamental unity of life, and in freedom of the individual as the uncomprimisable value.
Books
Apart from His erudition in Vedantic texts, Swami Bodhananda is a well known management guru.. He is an avid reader and is well-versed with the contemporary challenges that the corporate leadership and corporate management face.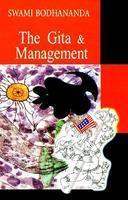 Swami Bodhananda is the author of several books: His latest book is Indian Management and Leadership. Other books include The Gita and Management; Meditation: The Awakening of Inner Powers; Happiness Unlimited; Seven Hindu Spiritual Laws; and, Management and Mahabharata. He has also authored two conversation-styled books, one with a scholar of consciousness studies in India, and the other with a young Indian-American lawyer in the United States. These books are "Dialogues: Philosopher meets Seer" (2001) and "Irreverent Spiritual Questions" (2004).
See complete list of Books .
Buy Gurudev's Books in Flipkart • Pictures in the Archive • Messages and Notes from Gurudev • HOME
Visionary Leadership
Itis Gurudev's vision and inspiring spiritual guidance that gave rise to the idea of 'Bodhananda Research Foundation for Management and Leadership Studies' in 1988, to foster human potential development, and to develop leadership through dialogue, in management. BRF-ML was formally registered as a Trust in 1995.Gurudev is the spiritual guidance and inspiration for Sambodh and its sister institutions in India, North America and Europe. Programs and projects for the study and propagation of Vedantic Scriptures, research on Indian management and contextulaising it in the contemporary economic and geopolitical context, ashrams to set our minds high and med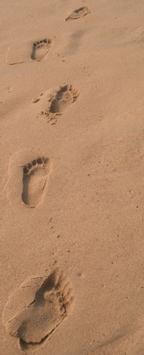 itate in unison with the harmony of mother nature, living with nature, social service activities for the minorities and underprivileged - all these are blooms of His divine vision flowing through His devotees and associates in different parts of the world. 
The divine and spiritual presence of our Paramacharya invokes an inner and self-giving motivation in us to come out of ruts and stereotypes, conflicts and dilemmas, and to experience the full flowering of the spirit.
To follow the sacred footsteps, the divya-paada, of the Guru is to travel to the abode of the Ultimate Truth. 
• BRF-ML • Thematic Notes • Pictures • Quotes for Meditation • Books • Write to Gurudev
Sambodh Foundation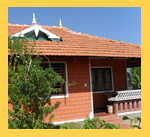 Sambodh Foundation, India , is a not-for-profit charity and spiritual organisation, that works for social, and spiritual uplift, inspired by the vision and teachings of its preceptor, SWAMI BODHANANDA.
An acclaimed Teacher of Vedanta, Gurudev with rare clarity and vision, through discourses, interviews, lectures, classes and seminars unfolds the answers to the perennial yet contemperaneous question 'who am I'.

Sambodh Foundation is a forum for philanthropists and service-minded Sadhakas, to pool their resources, to set up appropriate institutions, with a dream for the spiritual revival of the humankind.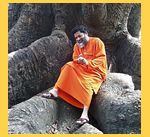 Guided by Gurudev's sacred vision Sambodh practises the inculcation of values such as respect for all religions, respect for the individual and his/her fundamental rights, respect for nature and human's symbiotic relationship, all with a scientific temper. The goal is noble. The work is rewarding. But the path is ardous. We need a reservoir of good will among the enlightened public. Finance is required. Workers are needed. But what is more precious is the good wishes of the people, of all of you.
Join us and discover a new world and a new life of happiness, love, self-unfoldment and self-fulfillment. Let us participate in God's work and let us feel God's abundant grace every moment of our lives.
Swami Bodhananda • Sambodh Kerala • Sambodh Bangalore • Leadership Studies • Contact Us •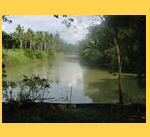 Sambodh INDIA has centres in several cities in Kerala with ashrams in Trivandrum, Cochin, Calicut and Palakkad. The headquarters of Sambodh Kerala is in Trivandrum, at Bodhananda Kendram, beside the river Kalady, frilled by coconut palms, and with a picturesque vanatage point. There is a full fledged guest house, halls, and classrooms in Bodhananda Kendram. Bodhananda Kendram in Trivandrum is the oldest Centre of Sambodh India, and was started by the disciples of Gurudev in 1988.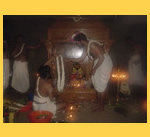 Siddhi Vinayaka is the patron deity of Sambodh Kerala and other Sambodh Centres. Devotees of Sambodh in India and the United States worship Siddhi Vinayaka with the Ganesa Gayatri mantra, and also contributing to microcharity through the Siddhi Vinayaka Kalasaradhana Programme. Read More
Sambodh Kerala • Siddhi Vinyaka Kalasa Aradhana Programme • Ganesa Gayatri • Contact Us •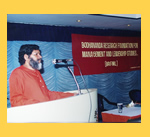 Sambodh India has inspired a research foundation, Bodhananda Research Foundation for Management and Leadership Studies. BRF-ML was found in 1990 inspired by Gurudev's vision that leadership will be the most challenging issue in the twenty-century not only in corporate management, but all enterprises that would need innovation, imagination and team effort. BRF-ML organises seminars and courses on a wide range of themes on Indian management. The most recent event was a course on classical Indian ways of reasoning, with focus on the text Tarkasamgraha. Read More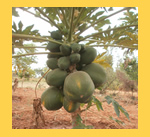 The activities of Sambodh Bangalore are primarily two-fold: The Sambodh Centre for Vedanta & Siddhi Vinayaka Temple which is coming up in the city; and the Sambodh Centre for Living Values in the outskirts of Bangalore which is devoted to activities that promote a green life style based on ecological principles. Sambodh Bangalore organises events to support underprivileged children with educational aids; planting of trees, medicinal plants and organic farming; and nurtures Sambodh Centre for Living Values, with a variety of a programmes that inspires interdisciplinary dialogues; studying Vedantic texts; and living with the nature. Currently, Sambodh Bangalore is overseeing the construction of the completion of Vedanta Centre and the Siddhi Vinayaka Temple. To Know How You can Support, See Brochure

Sambodh Kerala • Sambodh Bangalore • Leadership Studies • Programmes • Brochure • Contact Us•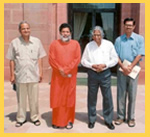 Sambodh Delhi is the central office for all Sambodh Centres in India. Apart from the administrative overview of the Centres, Sambodh Delhi organises annual lectures by Gurudev, and also study classes on Upanishads, Gita, and Vedantic texts, when Gurudev is in India. Apart from leadership and management studies seminars and lectures, Sambodh Delhi organises a variety of charity events to support the poor and underprivileged, and also supports a project for facilitating drinking water in Sattal, a Himalayan village. See Pictures